7K Metals is a multi-level marketing company that offers a variety of opportunities to invest in precious metals. While some people have called it a scam and don't recommend 7K metals, others believe it to be a legitimate way to make money. The company has been accused of being a Ponzi scheme, and while there is no concrete evidence to support this claim, it is important to do your own research before investing with 7K Metals.
Here's what you need to know before you invest:
What is 7K Metals and how does it work? Full 7K Metals Review
7k Metals is a membership-based precious metals company that allows members to buy and sell real gold and silver products for a membership fee. Premium memberships allow members to sell 7K metal products for a higher fee. 7K Metals products are made of gold, silver, and bullion, including coins, bars, and jewelry that can be sold for cash or credit.
So how does 7K Metals work? Essentially, members pay to join and then earn commissions on the sales of products to other members. The company makes money by selling products at inflated prices and pocketing the difference.
7K Metals Review Quick Summary
7k Metals is a new precious metals company that has been gaining popularity lately. They offer a variety of membership options that allow people to invest in different precious metals like gold and silver. 7K Metals also has an MLM structure, which means that members can earn commissions by recruiting other members.
So far, 7K Metals seems to be a legitimate company with a solid product offering. However, there are some concerns about their pyramid structure. Some people believe that the company is more focused on recruitment than selling actual precious metals.
If you're considering joining 7K Metals, it's important to do your research and weigh the pros and cons carefully. There's no doubt that the company has potential, but make sure you understand the risks before investing any money.
Who should join 7K Metals MLM?
Because 7K Metals is a new and innovative way to invest in silver and gold, you can choose to purchase precious metals directly from the company without having to go through a broker. You can collect metals at competitive prices! Buy gold and silver at dealer-direct pricing! No minimums, no middlemen, no fees! This makes 7K Metals a great option for those who are looking for a more hands-on approach to investing in precious metals.
So, who should join 7K Metals? First and foremost, anyone who is interested in investing in precious metals should definitely consider joining 7K Metals. This is especially true if you are looking for a more affordable way to invest in these assets. Additionally, those who are interested in having more control over their investment portfolio may find that 7K Metals is the right choice for them.
7K Metals is a great opportunity for anyone who wants to get involved in the precious metals market. The company offers a variety of services that can help investors learn about and take advantage of the market. The 7K Metals business is a great choice for anyone who wants to get started in this exciting industry.
Should You Join 7K Metals? It's entirely up to you, but here I'll show you some advantages. That way, you can decide if this program is right for you or not.
▶ 7K Metals is a company that allows you to earn reward points for completing certain tasks.
▶ You can then use these points to purchase items from their online store.
▶ They also have a referral program where you can earn points by referring other people to join.
I personally think that joining 7K Metals could be a good way to get some extra reward points that you can use to purchase items from their store. I also like that they have a referral program where you can earn points by referring other people to join.
Is 7K Metals a Scam?
There has recently been much discussion over whether or not 7K Metals is a scam. Some people believe that it is a legitimate MLM business, while others believe that it is a pyramid scheme.
So, what is the truth? Well, there is no easy answer. 7K Metals does sell precious metals, and you can purchase these metals through their membership program. However, there is a cost associated with this 7K Metals membership, and some people believe that this cost is too high. Additionally, the MLM business model used by 7K Metals means that they might be more interested in recruiting new members than selling metals.
So, is 7K Metals a scam? It's tough to say for sure. However, there are some red flags that you should be aware of before joining this company.
In my case, 7K Metals is not a scam; it is a legitimate MLM business that sells precious metals. You can purchase these precious metals through their 7K membership program, and the cost of the metals is determined by the current market value. There are no pyramid schemes associated with 7K Metals, and they are not involved in any fraudulent activities.
Why do so many people assume that 7K Metals is a pyramid scheme?
There are a few reasons why some people might think that 7K Metals a pyramid scheme. Firstly, the company does use a multi-level marketing structure, which can be associated with pyramid schemes. Secondly, the company offers a relatively high return on investment, which can be another red flag for a pyramid scheme. Finally, some people may simply not be familiar with the company and its business model, and so may mistakenly believe it to be a pyramid scheme.
Lots of people invest in gold and silver through 7K Metals to build and protect their wealth. So, collecting precious metals from this company might be a good option. If you're looking for a way to invest in gold and silver, then you have to take a look at companies like 7k.
7K Metals MLM: Positive and Negative Feedback by Real Users
Many people who have had positive experiences with 7K Metals find that the company is a great way to earn extra income. There is also some negative feedback from users, saying that the company is a pyramid scheme and that it is difficult to make money with them. Overall, it seems that 7K Metals is a legitimate company with some satisfied users, but there are also some people who have not had success.
There is a lot of positive feedback from real users about 7K Metals. They say that the company is honest and transparent and that their products are of good quality. They also appreciate the fact that 7K Metals offers a money-back guarantee.
However, there is also some negative feedback about the company. Some users say that the customer service is not very helpful and that it can be difficult to get a refund if you are not happy with a product.
Facts About The 7K Metals Company
7K Metals, LLC is a privately held company that produces and sells precious metals. The company was founded in 2016 by entrepreneurs, Zach Davis, Roger Ball, Richard Hansen, and Josh Anderson. They had the idea of creating a company that would focus on sustainable metal production. According to CrunchBase, the company is headquartered in 7k Metals located in Idaho Falls, Idaho, United States. 7K Metals offers a variety of products, including gold and silver coins, bars, and rounds. The company also offers storage and shipping services. 7K Metals is a member of the Better Business Bureau and the American Numismatic Association.
What are the things I like about 7K Metals?
I really like the way that 7K Metals looks and feels. The company has a great selection of products, and the quality is really good. I also appreciate the fact that they offer free shipping on orders over $100. That's definitely a perk that I haven't seen offered by other companies. Overall, I'm really happy with 7K Metals and would recommend them to anyone looking for quality metal products.
What I Don't Like About 7K Metals
There are a few things I don't like about 7K Metals. First, the company doesn't seem to be very transparent about its operations. I can't find much information on their website about where they source their metals or how they process them. Second, I'm not a big fan of their customer service. I've had some issues with my orders and it's taken a long time to get them resolved. Finally, I think their prices are a bit high compared to other companies.
Income Disclosure Statement
7K Metals assists in the information from the necessary silver and gold to the right method. Team up with Stacking Wealth and ask me how I can influence your life today!
From 2020 to 2021, 83.37 percent of 7k Associates earned an average annual income of $554.00. Please click here for more information: https://kutt.it/7kIncomeDisclosureStatement.
How To Make Money With 7K Metals?
If you ask me, the answer is yes! You can make money with this business model that allows members to earn a commission on the sale of precious metals. The compensation plan is designed to allow members to earn a residual income. In order to be successful with this MLM opportunity, you will need to be interested in buying precious metals and have a downline of other members who are also interested in buying precious metals.
If you're serious about making money with 7K Metals, there are a few things you need to know.
First, 7K Metals is an MLM company, which means that you can only make money by signing up for a premium membership and then recruiting other people to do the same.
The commission plan is based on recruiting, so you'll earn commissions from the people you recruit, and they'll earn commissions from the people they recruit, and so on.
There are also some restrictions on how much precious metal you can sell, so it's important to read the fine print before signing up.
How Much Does It Cost to Join 7K Metals?
The cost of joining 7K Metals varies depending on the membership package that you choose. The most basic standard membership package costs $199, and the most expensive premium membership package costs $499. There are also monthly subscription plans available starting at $115 for those who want to pay a smaller amount each month. 7K Metals also offers a free trial for those who want to try out the service before committing to a membership.
What are the 7K Metals Member Requirements?
To join the 7K affiliate program, members must be at least 18 years old and be U.S. citizens or legal residents. They must also create an account and agree to the terms of use. Lastly, they must have a credit or debit card to pay the monthly membership fee.
7K Metals is a company that sells precious metals, such as gold and silver, to its members at below-market prices. The company requires that members be at least 18 years old and be U.S. citizens or legal residents in order to join.
In addition to meeting the age and residency requirements, potential members must also create an account on the 7K Metals website and agree to the company's Terms of Use. Lastly, members must have a credit or debit card in order to pay the monthly membership fee.
7K Metal Opportunity: How Will Wealth Autopilot Help You?
The Wealth Autopilot Marketing System is a new opportunity that promises to help you earn money with 7K Metals. It was created especially to assist people in achieving greater success with the 7K metals. The system claims to be an automated marketing system that will help you promote and sell 7K Metals products.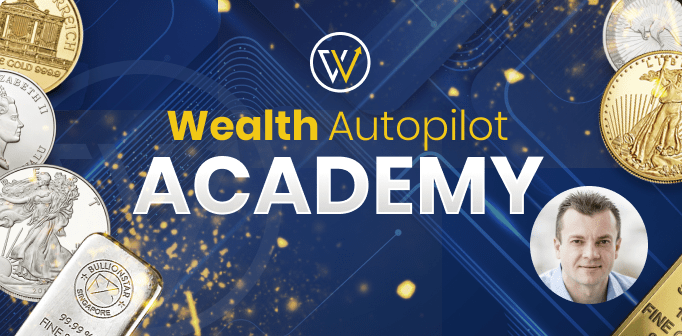 Wealth Autopilot Marketing System focuses particularly on the marketing aspects of things, integrating elements of proven programs in an intelligent and new manner. For example, it combines the funnel concept with a mastermind group, allowing users to profit from both passive and active revenue potential.
Wealth Autopilot is an excellent way to protect your wealth. It's also a great way to make money by investing in precious metals. If you're interested in learning more about Wealth Autopilot, please visit our website today.
Wealth Autopilot Advantage for Gold and Silver Buyers
We assume that our money's worth is somewhat decreasing as we work more and more, but that's a side effect of spending so much time working. We work hard without also building our own business, and we're not using assets such as gold and silver as a hedge against inflation.
If you're interested in learning how to authorize my team to fund profitable gold and silver items without out-of-pocket expenses, then you should see my presentation. We train you on how to start your own company by providing you with guidance on obtaining no less than $250 a week.
The precious metals held by these governments and businesses without this education will lack the real value that they have. It's almost as if we trained our leaders and fanatics on the value of gold and silver so that they would fail to give them their true worth.
For example, individuals also prefer to eat more ice cream than they eat silver. The going rate per ounce of silver is around $25 an ounce. That's simply baffling to me. You can watch that video on our Stacking Wealth blog site. You are free to share it when you join us on the platform.
7K Metals Review: Conclusion
If you're looking for a way to make money with the 7K Metals opportunity, then you might like my 7K Metals honest review. I have tried to go over the pros and cons of the business and give you my honest opinion on whether or not it's worth your time and effort.
Overall, I think the 7K Metals MLM opportunity is a decent way to make some extra money. The products are good quality, and there's a lot of potential to make sales. However, there are a few things that I don't like about the business. First of all, it's expensive to get started, and you have to pay monthly fees just to stay active.
All in all, I think the 7K Metals MLM Opportunity is a decent way to make some extra money. If you're willing to put in the work, you can definitely make sales and earn a good income. Just be aware of the costs involved and the fact that you'll need to recruit other people in order to be successful.